Gilbert's is celebrating over 70 years in the Fire Extinguisher Service business!

A fire extinguisher is an absolute necessity in any home or office regardless if you have smoke alarms or even a fully sprinklered building. While we all hope it sits on the wall hook collecting dust, it could end up saving your property and even your life if a fire breaks out. In nearly 95% of all reported fires, portable fire extinguishers are the media used to put them out.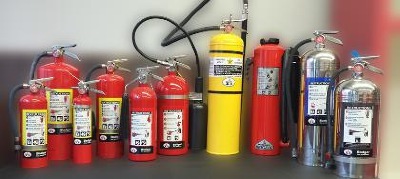 The main types of fire extinguishers are:

Dry Chemical- Including ABC, BC and others
Co2
Water
Wet Chemical
Products:

Services:

Sales, layout, installation and annual inspections in accordance with NFPA-10 standards, State & Local Codes and standard Insurance requirements.

We also work within a network of contractors so that your fire protection needs are met - We make sure that your business is "up to code" so that you don't have to.