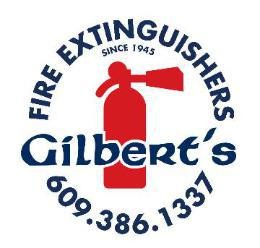 Welcome to Gilbert's!

Celebrating over 70 years in the Fire Extinguisher Service Industry!

Gilbert's Fire Extinguisher Service, and Safety Equipment, LLC Has been servicing fire extinguishers since 1945. We put our customer's needs first by providing prompt, courteous service.

Click here if you are an existing customer and would like to set up an appointment or need to contact someone regarding your current service.

If you are a new customer, and would like to learn more about our products and services, click here.

If you know what you need, and would like to place an order, or set up an appointment for an inspection or service, call us at 609-386-1337 or email: reds@gilbertsfp.com

If you are not familiar with our company and your first contact with us is online: We would be pleased to hear from you! Please let us know what your needs and questions are, we will be more than happy to help please email us, or call us at 609-386-1337.

Please click here to see the products and services offered by Gilbert's.

Thank you for visitng our site.